Introduction
Heroes & Empires
Heroes & Empires is a next-gen NFT game that combines the distinct elements of Idle RPG with auto-chess tactics, all while being linked to blockchain technology. By utilizing the Non-Fungible Token (NFT) feature to create characters and items, as well as Skill-2-Earn elements, players will be able to earn a consistent income while having fun with many gaming features.
It developed the game based on the Unity engine with modern gameplay and high-end graphics,which show its unique element.Along with a system of mutual and contrasting characters, Heroes & Empirescruised the heartsof players not only through diverse tactics but also through many game modeslike PVP, PVE. In the game, players will collect and upgrade heroes, gear from various Races and Classes. Each hero has its abilities and characteristics. Players can constantly strengthen heroes, take part in PVE, PVP battles, and earn rewards.
A unique NFT built on the BEP-721 standard powered each hero and gear.
Take partinin-game activities.
Competein PVP battles for leaderboard prizes.
Collect, speculateon heroes, gear, and more.
Open Hero Packs andexchangethem on the market.
Heroes & Empires is a blockchain-based AI gaming platform with a mission to unleash the ultimate benefits of blockchain technology in the world. Heroes & Empires will contribute to a bright global technology landscape.
Heroes & Empires will be available to play on PC or mobile, giving you a choice to enjoy the game whichever way you want.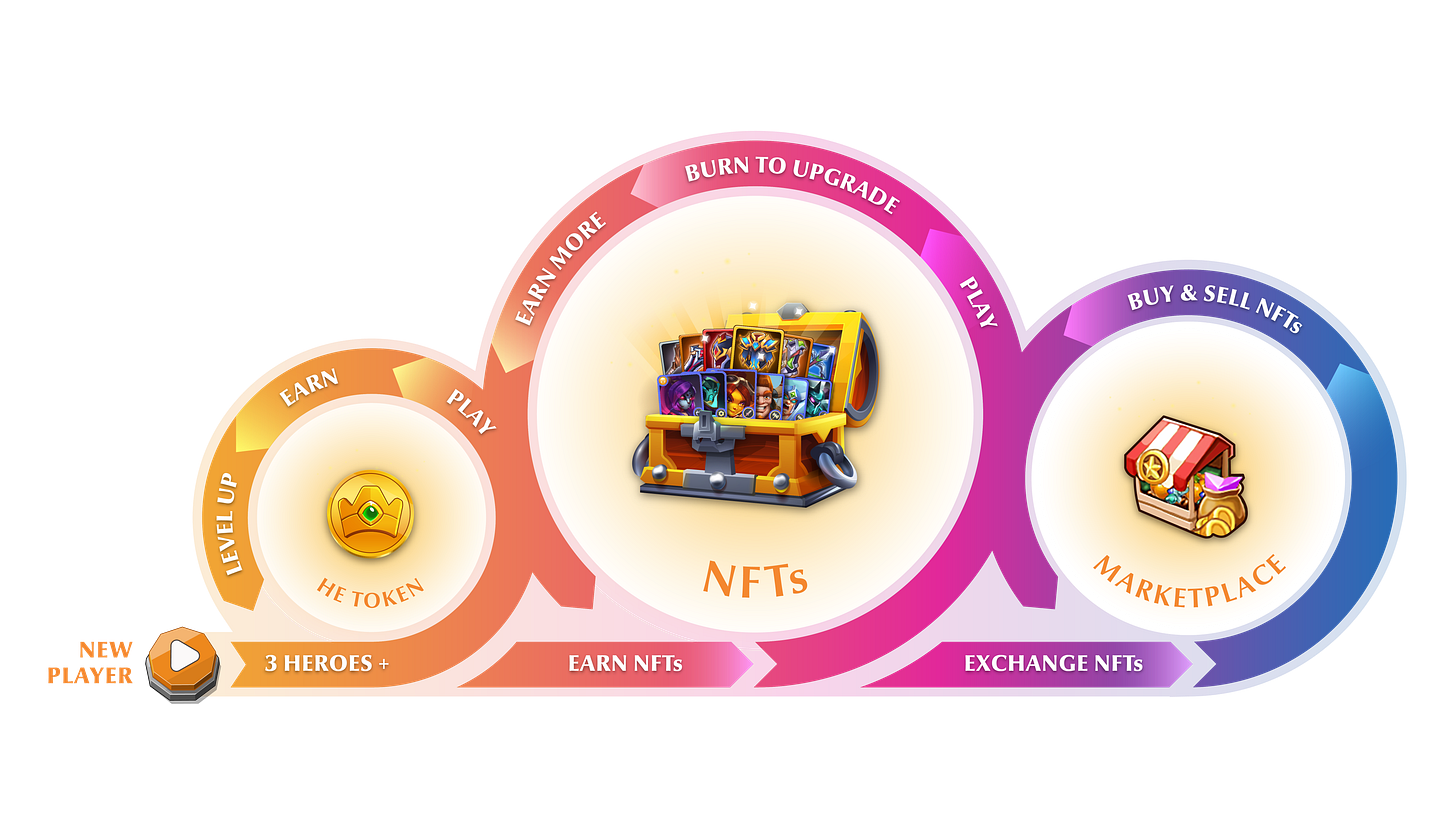 H&E S-2-E Overview
Free to Play
Free to Play is a feature that allows players to experience Heroes & Empires without spending money.
Players choose to enter the Guest account to experience Free to Play.
Players will get 5 heroes for free from the tutorial: 1 Epic, 4 Rare.
These free Heroes cannot be minted, can only be used as food.
Players will be guided step by step through the tutorial system.
To join our experience, follow these steps:
- Access the game at: https://play.heroesempires.com on PC or download mobile version, select to account "Guest" or register with your "Facebook" account, "Email" account; if you are proficient in Blockchain, you can register with Crypto Wallet.
- Review and "Accept" the policy terms.
- To encourage new players, we have created a player guide system and of course, an attractive gift for new players.
- You will be able to use 4 Heroes tier Rare and experience the same tutorial system.
- When the player reaches Chapter 2, there will be a Tutorial Summon gift that will come to you after completing Chapter 1.
Read more